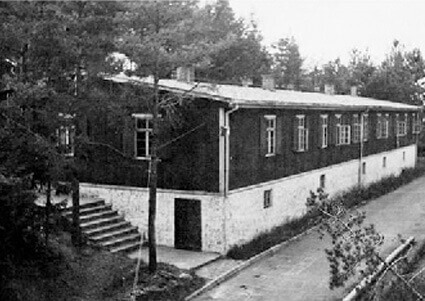 The beginning
May 1945 three Norwegian sailors arrived in Gothenburg, Sweden, driven on the white buses of the Folke Bernadotte. One of the sailors was wireless operator Frithjof Edwardsen from Mandal, Norway.
Mr. Edwardsen and his two sailor friends stayed in Gothenburg for a while, renting an apartment. Mr. Edwardsen and his brother one day visited the Swedish Loudspeaker Company. Whilst waiting outside the company, the Swedish brothers Ununger pointed at Mr. Edwardsen and told him; "you will produce loudspeakers in Norway".
March the 1st 1946 DNH A/S was founded, with 50% shares belonging to the Swedish Loudspeaker Company. They rented a small building in Odins Road, Oslo. The production could begin.
One of Mr. Edwardsens sailor friends, Mr. Storm Paulsen, could never stop talking about the beauty of the village of Krageroe. In the winter of 1947/48 DNH A/S moved to Krageroe, where old barracks from the war were empty. Along with Mr. Edwardsen followed Mr. Gotun, the car mechanic and Mr. Edwardsens two sailor friends from the war accompanied him.
All of the manufacturing process was undertaken in the factory, such as punching frames, moulding spiders, making coils, shaping of membranes and production of magnet systems. DNH A/S loudspeakers soon became known as "the golden loudspeakers of DNH".
The next stage
Mr. Edwardsen realised that it was impossible for DNH to make a living based on the population in Norway. Early in the 1950's DNH started to export their products to Germany, Denmark and Holland. In 1957 it was decided that almost all the sales efforts should be directed outside Norway. DNH employed Mr. Schulte with an office in Nurnberg, Germany the same year.
Early on DNH started to produce 10, 12 and 15 inch loudspeakers for bands, juke boxes and "Hi Fi". These models were successful mainly due to their high sensitivity. However, competition from the Far East was increasing. Good "copies" at very competitive prices were introduced into Europe, and DNH soon realised that they needed more "sophisticated" products for the sound industry.
In 1959 it was decided to develop re-entrant loudspeakers or horn loudspeakers. The first explosion proof (Ex) horn loudspeaker was produced in 1962.
Product development
Many new products were developed during the 1980's. Mostly they were models intended for special applications. Amongst several models DNH proudly mention driver unit DS-100, the music horn MH-15 and the first explosion proof plastic horn loudspeaker in the world, DSP-25 Ex.
DNH were ISO-9001 certified in 1992. Amongst new products DNH developed flame proof cabinets and new ceilings speakers as B-560 series, cabinet speakers like SAFE-10 and projectors such as Prosound 300 and DP-10.
DNH philosophy
"In order to increase your sales, you have to expand. You need new ideas, new alliances and perhaps the most important task: You need to limit your expenses." The export margin for DNH has always been high. Between 85 – 90% of the total turnover is exported all over the world.
To maintain sales DNH Ltd was established in Uckfield, England in 1983 and later, DNH WW Ltd in Milton Keynes (1994) with sales office and warehouse DNH GmbH was established in Hamburg, Germany ( 1987 ) and DNH Inc. was opened Jan. 2007 in Philadelphia, USA
Contact persons at the head office: